Published Tuesday, January 2015
Tips for Verifying Citizen Video
As citizen footage becomes a more common feature of the news cycle, our Madeleine Bair, Program Manager for the Human Rights Channel, shares tips for journalists who need to verify video that they incorporate in their reporting. She writes:
Sniffing out hoaxes is not always so easy. But as user-generated content plays a greater role in news coverage, we need to do a better job verifying what it is we're seeing, and giving our audience the context they need to understand it.

You may not be able to say with 100 percent certainty where and when the footage was filmed, but you can at least avoid misinforming your audience or putting a citizen at risk.
Her article on MuckRack's blog is aimed at journalists, but is useful for any of us who want to maintain a healthy skepticism about the vast amounts of video footage circulating. In essence, seeing should not always mean 'believing'.
In addition to the five tips Madeleine shares in the article, she also connects readers to a Verification resource page we've created on the Human Rights Channel's site with more in depth guidance and tools from organizations such as Amnesty International, Ushahidi and the European Journalism Centre.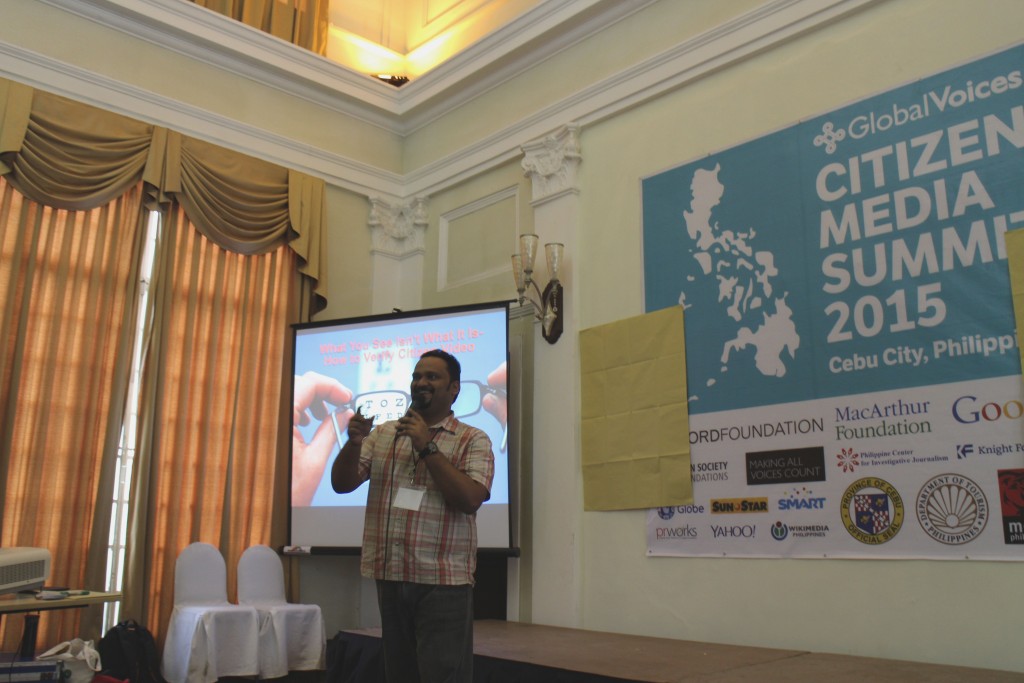 Meanwhile, in Cebu, Philippines, Arul Prakkash, our program manager for Asia was also talking verification. Prakkash attended the 2015 Global Voices Summit. Global Voices is an international community of bloggers, journalists and citizens who report and translate stories from their communities to share globally on the internet. Here is some of the feedback following the the workshop that focused on the basics of verifying citizen video:
Very good session on how to verify videos for documentation purposes, by @arulprk from @witnessorg. Super practical and useful. #GV2015

— Leila Nachawati Rego (@leila_na) January 24, 2015
@arulprk: key tools to #verify videos http://t.co/cvQCufzdLg, http://t.co/vKDwsYXIFN, http://t.co/2YldyLsa7p, googleReverseImage

— QZ (@Natrani) January 24, 2015