Published Tuesday, June 2016
WITNESS MARATHON RUNNER SPOTLIGHT SERIES: Alessandro Signore
We are excited to present our second runner spotlight as part of WITNESS' participation in the 2016 TCS NYC Marathon. This month filmmaker Alessandro Signore talks about his history with running, WITNESS, and useful marathon training tips:
Why did you decide to run the 2016 mar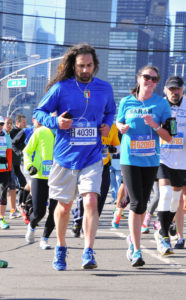 athon?
Running through the city in the 2014 NYC Marathon was such a unique, spiritual experience, and I decided immediately afterwards that I'd do it again soon. For that race, my training period was abbreviated due to a soccer injury, so although I finished, I want to run it at a much better pace in 2016. I also like that it sets a good example for my two children, and they see the work it takes to achieve goals like this.
How did you first find out about WITNESS?
I actually discovered WITNESS the day of the lottery for this year's marathon. I knew I wanted to run it no matter what, so I looked into charities that guaranteed a spot. WITNESS is an organization that has a message I genuinely believed in and could represent passionately, so I decided to join the team!
What impact do you hope to make by running for WITNESS?
Through my fundraising campaign, I hope to make people aware of WITNESS and their goals. I think right now, an organization like this is more important than ever, considering the current social issues in the USA. As a filmmaker, I've always believed in the power of the camera for artistic purposes, but it's become an incredible tool for justice where there used to be none.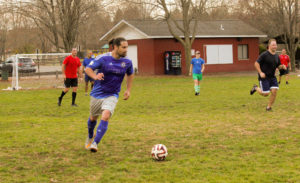 How did you start running?
When I was young, my uncle Louie ran the NYC Marathon, and I have fond memories of that inspiring our Italian American family from CT. Although I've had some periods of inactivity, it's been a part of my life for a long time, from playing sports as a youth, spending time in the military, and getting back in shape after quitting smoking. Overall, it's a big component of my overall fitness regimen.
How is training going so far?
Training is going great! I feel much better, healthier, and stronger at this stage than I did last time. Although a bit unorthodox, I'm still mixing in a lot of plyometrics, pick up soccer and weight training, but in the next few weeks, I'll start to hit the really long runs and focus on the distance.
Do you have any tips for other runners?
There's a lot of (conflicting) information out there, and every runner is different, but there are a few things I've found to be especially important for me over the years.
Proper shoes. I cannot stress this enough, spend the time and money to invest in a good pair. Go to a reputable running store. Your feet and legs will thank you, and you'll avoid overuse injuries, especially when running the long distances required for marathon training. Don't buy the cheapest pair that look shiny and fit. I made that mistake for you already.
For the last marathon, I cut out almost all dairy and added sugar and bread. That seemed to help my energy levels and kept my weight down during the time I was injured in training (I think it actually saved my marathon). I'm doing that again.
Spend the time to stretch afterwards. This has helped my recovery and keeps me loose afterwards.
Most of all though, have fun and switch up the routine sometimes. Take a different path. Get lost in the journey itself, and not the end goal.
Help keep Alessandro achieve his goals and donate to his campaign for WITNESS!