Published Tuesday, November 2016
BIKE WITH WITNESS IN THE 2017 TD FIVE BORO BIKE TOUR!
Have you ever dreamed of blazing through all five boroughs in a few short hours, cheered on by adoring crowds…then realized that you were not quite up to running the New York City marathon? If so, we have the event for you.
Join Team WITNESS in the 2016 TD Five Boro Bike Tour, and bike for human rights worldwide!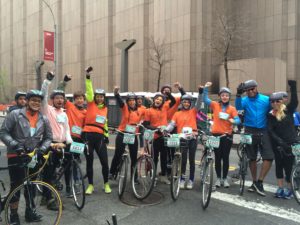 On Sunday, May 7th, ten bikers sporting fabulous orange jerseys will represent Team WITNESS…and you could be one of them. Each of our fierce and fashionable bikers will commit to raising $1,000 in support of WITNESS' programs – making it possible for anyone, anywhere to use video and technology to protect and defend human rights.
As a member of Team WITNESS, you will receive:
Free, guaranteed

registration;

Breakfast and lunch on the day of the event;

A personalized jersey;

Fundraising support;

Invitations to special events;

And more!
Last year's team raised over $17,000 in support of WITNESS' programs and had a blast doing it! Our team was led by a mother-son duo of Irish invaders, and bolstered by our own Executive Director. We challenge you to surpass their fundraising total and join us in the fight for justice and equality.
Interested in joining Team WITNESS?
Step 1: Contact natalie@witness.org to secure your spot and register with the team. The sooner you reach out, the better your chances – we already have a few bikers committed to joining the team, and spots will go quickly! Registration opens January 17.
Step 2: Set up your personalized page on Classy, and use WITNESS' tips to start fundraising.
Step 3: Ask your family, friends, and colleagues to help you meet your fundraising goal of $1,000 by May 30. If you can think of 25 people who will give you $20, you're already halfway there! And remember, you're not on your own – you will have support, encouragement, and excellent fundraising ideas from Team WITNESS.
Step 4: Bike in the Tour on May 7.
With your support, WITNESS can provide activists with the skills they need to capture effective video footage and create sustainable change. Join us, for a fun day of biking and defending human rights!