Published Friday, March 2015
International Women's Day: Susan Sarandon + WITNESS
This Sunday, March 8, is International Women's Day; and having partnered with organizations that have championed women and girls' rights for the past 20 years, March 8 is a date WITNESS looks forward to celebrating every year.
The official charge for 2015's International Women's day is to celebrate women's achievements, call for greater equality and, in short, to #MakeItHappen.
We're proud to support women and gender equality activists around the world who are making it their personal mission to Make It Happen, including women like Kuda Chistike.
WITNESS partnered with Zimbabwean human right defender, Kuda Chitsike, to expose politically motivated, gender-based violence in Zimbabwe. A lawyer at the The Research and Advocacy Unit (RAU), Kuda was interested in translating written reports into compelling video to motivate Zimbabwean citizens to take action against gender-based violence. Screening videos across Zimbabwe, the campaign was incredibly successful, the benefits of which are still visible today.
Following our work in Zimbabwe and other campaigns advocating for women's rights, WITNESS published a guide on how to interview survivors of gender-based violence; a resource that is now being used all around the world- in 7 languages and counting –  to amplify the stories of brave women who are demanding justice.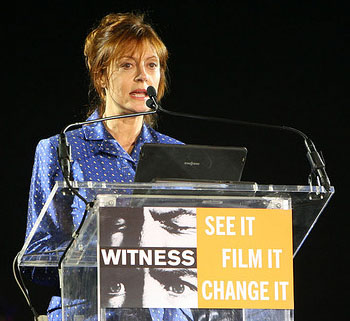 This year we were honored to have long-time supporter, actress and activist Susan Sarandon team up with WITNESS to talk about what women's rights means to her:
This year, on International Women's Day, I stand in solidarity with brave activists of all genders who are declaring that enough is enough. I am championing those women who are speaking up and saying, 'my mother, my daughter, my sister and I matter'. And I am thanking the mothers who are raising their voices— often putting themselves at risk— so that their children might know a more just and peaceful future.
Read Susan's entire message about International Women's Day and WITNESS' commitment to women's rights here.
We hope you'll join us on March 8 as people around the world celebrate women's achievements, call for greater equality and #MakeItHappen! And please consider donating to WITNESS as we continue to support women's rights.