Published Thursday, March 2017
WITNESS Co-sponsors Anti-Street Harassment Rally with Hollaback!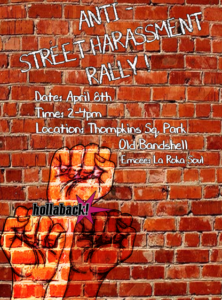 We're joining forces with Hollaback! to mark International Anti-Street Harassment Week. Join us Saturday, April 8th at their annual rally in New York City. You'll learn the tools you need to stand up against harassment and get inspired by speeches and performances from amazing activists and artists, including a pop-up workshop from WITNESS.
Hollaback! is a global network of grassroots activists using tried and true organizing tactics and new technologies to open conversations and strategies to end harassment and ensure equal access to public spaces. WITNESS is excited to collaborate with Hollaback! on resources around safely, ethically and effectively documenting and reporting incidents of hate and harassment.
It's time to end harassment in public space. RSVP today and invite your friends and family!