Published Friday, March 2015
WITNESS hosts panel at United Nations: Women & Technology
This past Tuesday, March 17, WITNESS participated in the United Nation's 59th session of the Commission on the Status of Women, a two week conference that brings together women's rights activists from around the world.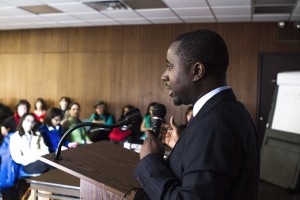 WITNESS' Senior Program Manager, Bukeni Waruzi, organized a panel, Women and Technology: Effective documentation of sexual violence and empowering survivors, which showcased the various ways technology is being used to protect and advocate for women's rights.
Bukeni, who has led WITNESS' work around Gender-Based Violence (GBV) including the development of our guide on how to interview survivors of GBV, moderated the panel that included:
Esther Wambui Kimbani, Young Women's Leadership Institute, Kenya
Mandivavarira Mudarikwa, a lawyer with Legal Resources Center, South Africa
Dafne Sabanes Plou, The Association for Progressive Communication, Argentina
This slideshow requires JavaScript.
Bukeni began by discussing WITNESS'
collaboration with lawyers in Zimbabwe
following politically motivated violence against women. Esther shared how video has been used to expose cases of GBV committed against minors in the areas of East Africa that the Young Women's Leadership Institute works in. Mandivavarira talked about the evidentiary value of video when seeking justice for acts of sexual violence or hate crimes in South Africa. Dafne shared how The Association of Progressive Communication is working to counter digital violence against women, and how video storytelling has been used to empower survivors of GBV.