Published Monday, July 2015
WITNESS in Myanmar: Prakkash for EngageMedia-Southeast Asia Video Camp
From June 3rd-June 6th of 2015 WITNESS' Program Manager for Asia and the Pacific, Arul Prakkash, participated in Camp Chindwin (Southeast Asia Video Camp) to train video activists in Myanmar. Camp Chindwin was organized by Engagemedia in partnership with Equality Myanmar.
The camp provided Prakkash a space to connect with like-minded video activists from around Southeast Asia and share WITNESS' mission and tactics. Some of the discussions at Camp Chindwin covered broader topics including: how to successfully navigate video activism, ways to share and distribute video online, video security strategy, how to use video for legal evidence, and  the use of mobile video applications. Other topics were more specific to activists in Southeast Asia such as: how to share content online without internet connectivity, how to subtitle videos in Southeast Asian languages, and how to strengthen the network of Southeast Asian filmmakers.
Prakkash also facilitated workshops on how to utilize tools such as WITNESS' co-developed app, informacam, and how to capture and use video as legal evidence. During the evenings, participants screened and discussed their films. Ultimately, this camp helped to grow WITNESS's connections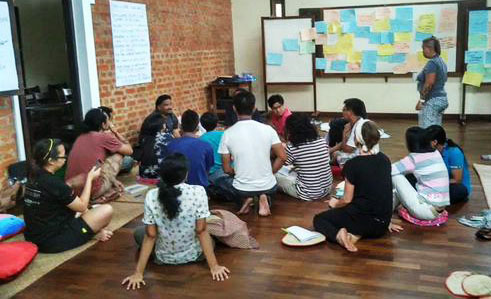 around the world and create a platform for future collaboration and the exchange of ideas and methods in the pursuit of human rights through video.
Prakkash's training at Camp Chindwin comes on the heels of a one day video advocacy workshop he led during the annual Diplomacy Training Program: Human Rights and Development— a capacity building program for community advocates in the Asia-Pacific region— that took place in Yangong mid-May. In addition to video advocacy, Prakkash's intensive one-day training also included camera basics, how to film an interview, and digital security.