Published Friday, July 2017
Indigenous communities win land rights victory in Mexico's federal court
In 2011, the indigenous Júba Wajiín community learned that the Guerrero state government had granted mining rights to two companies. The rights—which would encompass 80% of the indigenous community's lands—had been granted without consultation with the Júba Wajiín.
The Mexican constitution guarantees that indigenous communities will be asked about how their land can be developed or used. As the community built a legal challenge to the mining contract, the government tried to argue that they weren't, in fact, an indigenous community and therefore had no right to protest the arrangement.
For the past five years, WITNESS has been working with the Júba Wajiín community to tell their story and defend their land. We helped create videos including "Júba Wajiín: Resistance in the Mountain of Guerrero," supporting their land rights case. One of the videos targeted the Supreme Court judge overseeing the case. It focused on proving that the Júba Wajiín were, in fact, indigenous people since that was being contested by the government. Scenes included in the video showed traditional lifestyle, farming, native languages, and customs. And we helped them show how mining would destroy their land and livelihoods.
The video was a crucial part of the Júba Wajiín's biggest victory in July 2017, when the federal court ruled the Mexican state has a constitutional obligation to respect indigenous land rights, and that mining operations could not continue without the community's input. An ally noted that the ruling is an "unprecedented achievement" for indigenous land rights activists working against open-pit mining, adding that, for the first time, the Ministry of Economy "must comply with its constitutional and conventional obligations regarding the rights of indigenous peoples" when considering mining rights.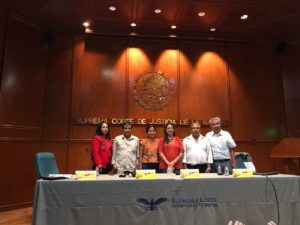 After the historic ruling in 2017, the Ministry of Economy appealed the decision. The appeal currently rests in the hands of the Circuit Court in Acapulco, Guerrero state's capital. In order to highlight the importance of this case and make sure that the Júba Wajiín secure justice, WITNESS and Valerio Amado Mauro, President of Communal Property of Júba Wajiín screened the documentary at a film festival organized and hosted by the Mexican Supreme Court. At the screening, the community's lawyer called upon the Court to bring about a final resolution to the case.
With this collective effort, WITNESS helped ensure that the voices of the Júba Wajiín were heard by Mexico's highest court, by lawmakers, fellow citizens and grassroots activists. It also paves the way for many other indigenous communities who might want or need to use video protect and defend their rights and their land against extractive industries and government interests.