Published Tuesday, March 2018
Military forces in Brazil deploy checkpoints and smartphones against residents
After it was announced earlier this year that the military will be in charge of policing Rio, favelas are already starting to experience the gruesome effects of the military's presence in their communities.
On February 23, the military deployed 3,200 soldiers to favelas Kennedy Village, Korea, and Vila Aliança on the western side of Rio de Janeiro. As a result, residents were forced to start passing through checkpoints in order to travel outside their communities. This intimidating move on behalf of local and federal governments against favela residents is increasingly looking like a dictatorship rather than the democratic society it claims to be.
Armed with smartphones, military forces at the checkpoints enforced embarrassing violations of privacy, allowing residents to pass through the checkpoint only after completing a "background check". In one instance, Edvan Silva Monteiro, a 47-year-old mason, had forgotten his paperwork and was prevented from going to work. Though Edvan was told by soldiers to go back home and retrieve the necessary documents, he was late to work and ultimately fired by his employer as a result of the incident.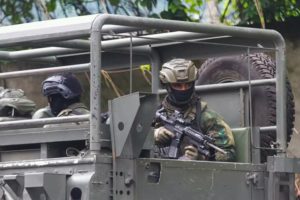 The commander-in-charge of the checkpoints spoke briefly to the press, stating that the information collected by soldiers on their smartphones was input into an 'army app', which communicates with a criminal database run by security officers. The Military Command of the East—which controls the military intervention in Rio—did not comment on the matter.
We do not yet know the full extent to which the information gathered by soldiers at the checkpoints is being used, though this move is bringing up major concerns regarding tracking and privacy of favela residents. WITNESS will continue to work with community groups and monitor the situation. Click here for more on our Brazil coverage.