Published Monday, December 2015
Round Up Of Our 2015 Focus For Change Benefit
On November 12, 2015, WITNESS celebrated the power of video to bring about justice at our annual Focus for Change Benefit in New York City. Co-hosted by the amazing Femi Oke and Peter Gabriel (via BeamPro robot), the night was a huge success! With the generous help of our supporters, we raised over $575,000 – giving activists and citizens worldwide the tools to bring about human rights change.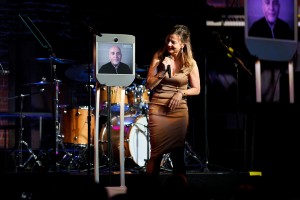 Throughout the night we heard from inspiring artists and activists like Baltimore's Kevin Moore, Black Violin, Sebu Simonian of Capital Cities, I Love Vinyl, Tai Beauchamp and Viacom President and CEO, Philippe Dauman – our 2015 See It. Film It. Change It. honoree. Citizen witness Kevin Moore brought the audience to their feet with his powerful story of documenting the arrest of Freddie Gray in a video that would lead to the indictment of six police officers and bring national attention to the issue of police violence. "We all have the power to stand up against what we know is not fair – and fight for what is just," he said. "And by hitting record on your phone, you could change or even save a life."
WITNESS' Yvette Alberdingk Thijm inspired us with a look into the future as she explained how initiatives like WITNESS Media Lab are using new cutting edge technology to hold human rights perpetrators accountable for abuse. In a changing world, we know WITNESS will continue to bring about justice one video at a time.
The night concluded with a performance from Sebu Simonion of Capital Cities' hit song, "Safe and Sound" ending the night on a note of optimism about the fight ahead.
Thanks to those who stood with us on November 12th – and who continue to stand up for a just world! We could not continue our mission to expose truth and defend human rights freedoms without your incredible support.
To experience this inspiring night through photos and video check our website and YouTube channel.