Published Wednesday, June 2018
WITNESS MEDIA LAB ANNOUNCES 2018 GOOGLE NEWS LAB FELLOW
WITNESS is pleased to announce data science researcher and technologist Erin McAweeney as the inaugural Google News Lab Fellow with the WITNESS Media Lab.
The Google News Lab Fellowship is a 10-week fellowship program designed for students interested in the intersection of media and technology. Successful applicants join a three-day workshop at Google's campus in Mountain View, CA where they receive training on a number of digital tools before they join their partner institutions.
Erin is a researcher and technologist working in data science, information ethics, and algorithmic bias. During her time as an undergraduate student, she worked in the Paris newsroom of the International New York Times and was an editor for a nonprofit street paper that provided employment and an outlet for the marginalized homeless population in her community. She has since pursued her Master's in Information Science from the University of Washington Information school where she studied data science and human-computer interaction. Before comi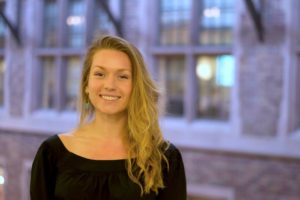 ng to WITNESS she conducted research with the Technology and Social Change research group as well as the Mobile and Accessible Design Lab at the University of Washington and was recently a research fellow for the Information Interaction Lab at the University of Michigan.
The Google News Lab fellowship has allowed Erin to continue exploring the design and use of accessible and ethical information systems for journalists and citizens alike. Erin is conducting a 10-week project involving network analysis of manipulated visual content and context targeting immigrants and activists which will culminate into a report for WITNESS partners and a publication on computational propaganda.
The WITNESS Media Lab is dedicated to advancing the role of eyewitness video in human rights documentation and advocacy through innovative video curation as well as resource development and thought leadership.